Guild Wars 2 Wintersday Event Starts In December!

From December 14th,"Guild Wars 2" U.S. Service is going to carry out a version upgrade substantially,which is mainly for the content of Winter theme activities.The event will continue until the end of January 3, 2013.
During the winter theme activities,the whole game world will be covered smooth in snow and everywhere will be white.But that's just the beginning of this Wintersday.In addition to changes of scene,the game will also launch many other snow and ice theme activities:

1.Lion's Arch, the Heart of the Mists, and the Home Map (Central Citadel) in WvW are decorated for the holiday.

2.Snowman building locations and present drops are available worldwide.

3.New crafting recipes are available.

4.PvP finishing moves and WvW siege weapon effects have been added.
5.Bell choir and snowball fight activities are available in Lion's Arch, and can be accessed through an NPC near the snow globe.

6.A jumping puzzle is available in Lion's Arch, and can be accessed through an NPC near the snow globe.

7.Events inside Tixx's airship will reflect the toy released each day.

8.All toy events will be repeatable during Tixx's stay in Lion's Arch.

9.A toy-based activity will be available once Tixx reaches Lion's Arch.

10.Tixx will be giving out a one-time gift while he's in Lion's Arch.
The wonderful Toymaker Tixx want to make the players feel the joy of the Ice World through these activities without having to leave the comfort of their home.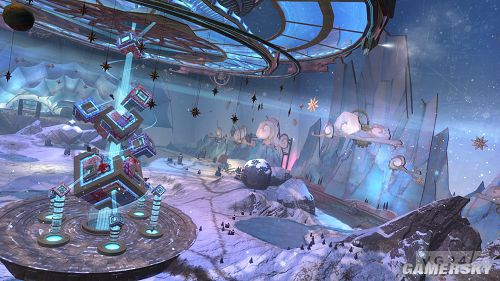 Besides,a variety of clothing, weapons, skin, props, and toys are launched one by one,and the players can choose their favorite theme props to dress up this winter.